I don't know what it is about nail polish, but for some reason, my choice of colors seem to be greatly influenced by my mood. For instance, bright colors usually signify a happy, positive mood, while dark colors are typically left for gloomy, down days. The only exception is probably the beginning of the Summer and Fall seasons. Fall is a great time to experiment with warm colors and neutral tones. So before you break out your spiffy Daria boots (90's reference!!!) and Olivia Pope cardigan, check out this list of the most trendy nail polishes for fall.
● "Autumn" by Zoya. Zoya chose the perfect name for this warm, copper/orange color, which they say is best described as varnished liquid metal. Yes, it is that pretty. If I had to use nail polish to describe what fall looks like, this is the one I'd choose! ($9 – zoya.com)

● "Dark Side of the Moon" by Deborah Lippmann. A beautiful, rich eggplant color with a silky, cream finish. The intense burgundy undertones are warm, yet not too dark. ($18 – Online & In Stores)

● "Insidious" by Phillip Lim for NARS. If you're looking for a rich jewel tone for Fall, this is it! The intense bronze color has heavy undertones of black, with subtle green and golden shimmer. If you like it, get a few because this is supposed to be a limited edition color. ($20 – narscosmetics.com)

● "Bare Mocha" by Laura Mercier. I'm not a fan of any shade of brown, any time of the year, but if you love the color, you'll love this ultra-smooth, cool brown colored polish. What I do like about this polish is that it has either plum or taupe undertones depending on the light. This is also a limited edition color, but if it becomes unavailable, "Particuliere #505" by Chanel is a great dupe. ($18 – lauramercier.com)

● "King Creole" by JulieG. Popular YouTube guru Julie G, just released her latest collection through Jesse's Girl cosmetics, called the "Mardi Gras Collection," and there are a few gems perfect for Fall, one being King Creole. This glittery mix of precious metals literally has all the colors of Fall right in it. What's great about King Creole, is unlike some glitter polishes, this one has a gold tinted base instead of clear. You can also skip the topcoat if you want a textured, matte finish instead of a shiny one. ($3.99 – jessesgirlcosmetics.com & Rite Aid)

● "Yes Sir! #557" by Rimmel Salon Pro. I would normally choose a darker or richer shade of green for Fall, but there is something about the color of this polish that still works. It's like a perfect marriage between olive green and taupe. The cool thing about this extra-shiny Lycra formula is that it's a base coat, color, growth treatment, strengthener, and top coat all in one. ($2.50 – Online and In Stores)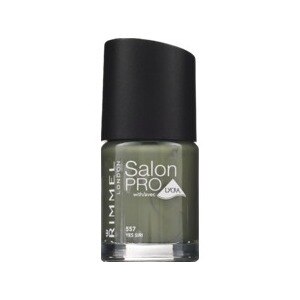 ● "What's Your Name" by Sinful Colors. If you're looking for a nice black polish that's not too overwhelming, check this one out. With its black base and micro-glitter specks of purple and blue, this polish brings to mind the Fall sky at night. ($1.99 – Online and In Stores)

● "Choo-Choo Choose" by China Glaze. This gorgeous, duo-chromatic polish has a purple base with flashes of green and amber shimmer. ($6 to $8 – Online & In Stores)

● "Date To-Knight" by OPI. Since Breast Cancer Awareness Month is during Fall, a pretty pink polish is a must-have. I love this shade of pink because it's not too bright or dark, but it's slightly richer than a typical nude pink. Reminiscent of a strawberry milkshake. ($8 to $10 – Online & In Stores)

● "Bordeaux" by Essie. No season or list would be complete without a creamy, rich red polish. Bordeaux is a great choice for Fall, because although it has an intense red shine, the burgundy undertones make it warm, rather than bright. ($8.50 – Online & In Stores)
What are some of your favorite fall colors?
Leave your Comments!
Comments